April 2023 – Whilst I have all my books on here, and now also on Amazon, I am also on Smashwords. So if either of these two places don't work for you, look me up there.
Mar 2023 – I've been plodding along in my writing this year so far, mainly working on the next in the series of The Necromancer's Chronicles, which follows Reckless as she teams up with an unlikely ally to stop the Underworld finding the Big Black Shaft of Summoning, and opening a door to invasion. However, it's going slowly. Hopefully the warmer weather that may arrive with spring and summer may help spur me on. In the meantime, please feel free to check out my e-books on here, or on Amazon Kindle. Some are available on Kindle Unlimited.
Dec 2022 – Updated a few little things on here, not least of all my free Tired of Death book link, which I'm not sure was working properly. It should be now. Simple go to the Tired of Death page and click on the book cover to download the whole book, totally free!
July 2022 – Quick update. Whilst you're waiting for my new erotic sci-fi (The Erotic Misadvetures of Black Alice – Space Pirate Queen) I've added a free 'taster' of my Alien's Slave book. Simply click on the link and scroll down a little.
March 2022 – I've recently branched out into the 'erotic' genre! Check out, if you have the stomach for it, my latest complete one: The Erotic Misadventures of an Alien's Slave, (also on Amazon) and coming soon: The Erotic Misadventures of Black Alice – Space Pirate Queen!
October Update
I just realised that my Tired of Death download links weren't working! Gah! It went a bit wonky when I upgraded this site to use https. Anyway, I've finally fixed it now. Apologies if you tried to click on them and they didn't work.
I've also done a few small tweaks to the site, which won't be apparent, but backend stuff. And I've decided to put my updates all on one page, 'cos makes it easier.
As autumn makes itself felt on here, I've been writing a new one. It's just fallen out of me, as these things tend to do sometimes. It's an adult tale though, so a bit more risque than my usual fayre. This means that some of my other works have stalled, so apologies for anyone waiting for the next Necromancer's Chronicles book, it's still in the works.
Thank you for reading!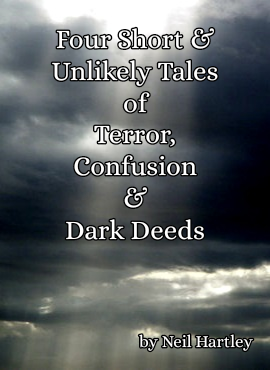 My new short story compilation has been added!
I've removed the feedback form for now, as all I was getting was a lot of spam. I'll revisit this with more anti-spam at some point in the future. In the meantime, you can always email me at either admin (at sign) NeilHartleyBooks.com or NeilHartleyBooks (at sign) Gmail.com
I'm not really on a lot of social media, as I consider it rather frivolous – frankly I don't care that someone is out walking the dog or whatnot. However, I do post most days to Instagram, although the majority of my posts are not book related (not sure if that's a good thing or a bad thing). Anyhoo, if you wish to follow me, I'm here.
I also write on the Opus Path under the name 'Ren'. Although I've not really put much up there recently, and the site is fairly inactive. Still, please feel free to check out my writings there, and also add some of your own. I promise to read and feedback. 🙂